Looking for a luxury QUEEN SOFA BED thats a fantastic well supported good nights sleep having style & integrity .
Introducing the Monte Carlo Queen Sofa Bed

Monte Carlo 3 seater Sofa Bed:
Size:

When upright as a sofa: 1800mm W x 920mm sofa
When used as a bed: 1500mm W x 1950mm bed
Folds out to a double sized bed taking up the least amount of space compared to any other  Queen Sofa Bed.
Great in spare rooms and small apartments.
Also Motels use this model for keeping those special guests very comfy.
Fits the smaller spaces nicely. Has a good little storage area in the base.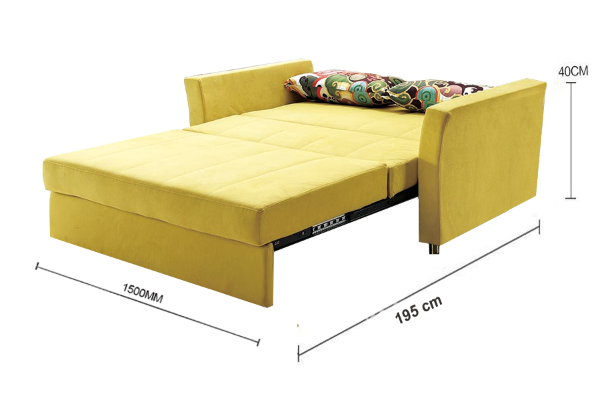 In terms of product development, we have answered the customers questions about strength and comfort in this Queen Sofa Bed
many of the certain aspects of design and practicality of a multi functional product. It fit the space nicely.
It looks great as a sofa. It takes up little space when in the sofa position and really does have a nice and easy
adjustable mechanism.
Demonstration Video:
***

New Yorker Queen Sofa Bed
Smooch's  state of the art space saving queen sized sofa bed. Truly our own Unique Model.   
The modern low type and fantastic color will enhance the room and make the sleep over a more  versatile way to use your room.
Great for use in the office and the media room.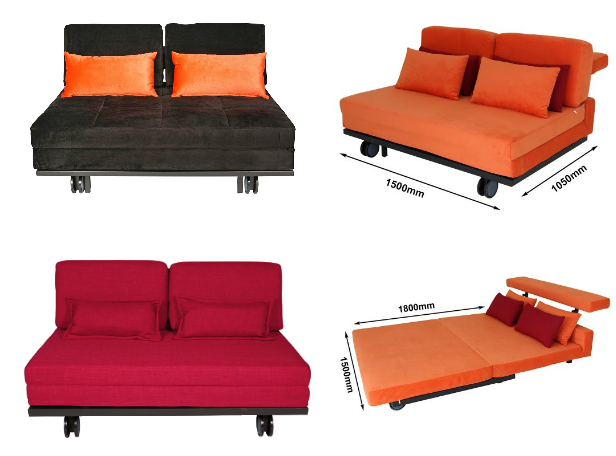 Convert the spare room into a great home office and only take up minimal space with a very easy slide away function.
New Yorker Queen Sofa Bed

***
Introducing the versatile and fabulous Monroe corner Sofa bed with chaise showing the optional ottoman with fantastic storage.
A very solid and comfy supportive seating with luxury and totally firm supportive chaise. Great for any room having the best left or right hand side configuration to suit your space.  Inside is the foam and spring box frame construction. This Corner Sofa Bed configuration has the biggest storage space available within any sofa bed in our range. simple enough to assemble with our step by step instructions taking only 40 minutes unpacked within your space.
Features:
1.45 m wide Bed x 2.05m Long;

Amazing support with 9 x Wooden screw in Feet for great support;

Perfect for max storage of  bedding for over night guests;

Motel and lodge use suitable;

Main room usable;

Perfect for Air B n B situations.
***
Try this for space
Get 2 x Smooch Executive Single Sofa bed as a luxury Swivel chair with head rest and arms that fold out into the legs and the back rest that legs unzip to for legs giving a very generous OVER SIZED QUEEN SOFA BED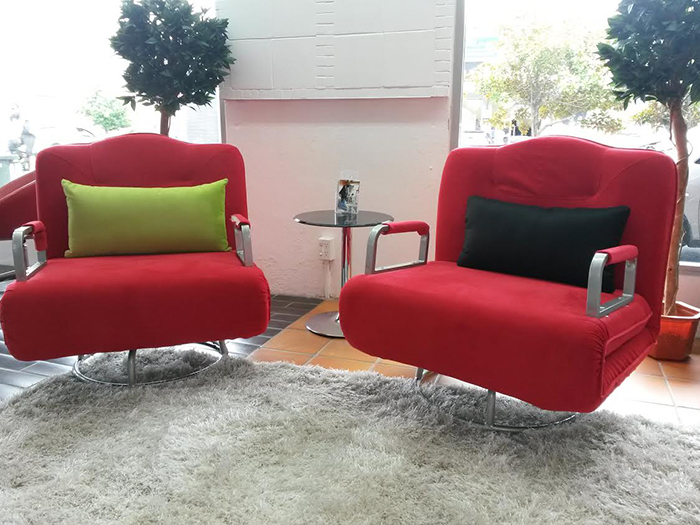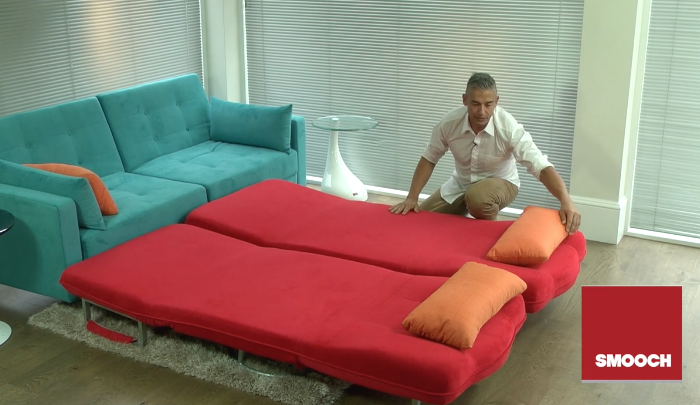 Space Saving swivel chair & bed –  9.5min ! Fast n Easy Assembly

Join two single  chairs together  1.6M wide Queen Sofa Bed
     
 The individual  Single Sofa Bed  folds out to get into the Queen sized bed Smooch Sofa Beds  really are a great way to shop for the right solution.
Demonstration video:
WE DELIVER EVERYWHERE!

To get your quality and reliable QUEEN SOFA BED quickly, we can send  you a colour sample of the fabrics now to make your decision.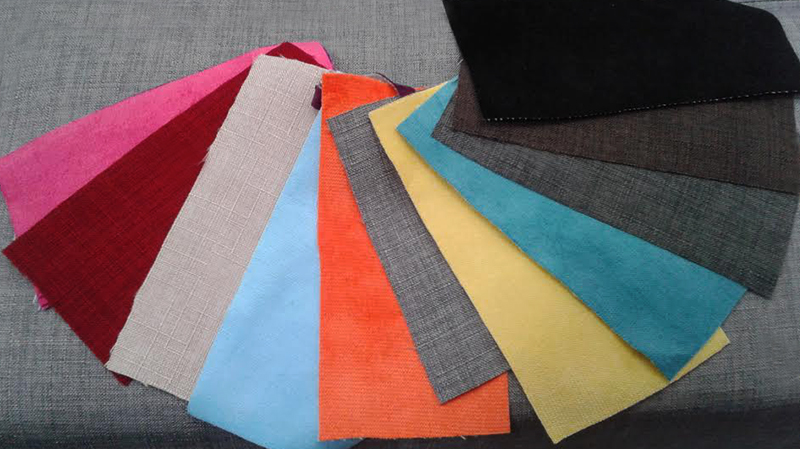 Call us now on 09 6369848
Kind Regards,
Team SMOOCH!